I hope all goes well with you. I can't believe it's already December. MindForge has been busy cranking away on three primary fronts. Here's an update.
Construction LifeSaver (CLS)
Since our last update, MadPow has been working on a plan and content for the overall program and the CLS Working at Heights. We are in the final stages of this project and MadPow will deliver before the new year.
The MadPow Deliverables include the following documents:
Construction LifeSaver Design Strategy
Behavior Change Strategy Playbook
(provides a deep dive into the strategy)
The final document that MadPow will add to this list will be a detailed design specification document and script that will guide us through the production of the course media.
In the new year, we will be testing and vetting the content.
CLS Signal Person Training VR (SPT)
While the CLS Program focuses on behavioral change across all trades, we are also testing the idea of developing skill-specific training. This skill specific training would be infused with the CLS mindset. This means we would not only teach the worker the skill, but also teach them safe behaviors that support the skill and promote safe behavior on the work site.
Our first skill training product will be CLS Signal Person Training VR. This training program is intended to be released for VR only. In the program, our virtual mentor, SAM, will teach users how to use hand, voice and audible signals to signal cranes. The users will learn what they would typically learn in an NCCCO Signal Person Training course including qualification and requirements. The user will learn about the physical limitations of cranes and will get to experience, first hand, what it's like to be a signal person in hazardous crane operations. We will enhance typical Signal Person Training with CLS Safety Best Practices, teaching a user to navigate dangerous scenarios involved in Working at Heights, Working in Confined Spaces, etc.
Workers that earn a SPT Badge from MindForge will be master crane signalers and will have the capability to recall signals instinctually.
Our team is working hard on the SPT prototype which we expect to deliver by end of year.
Here are some images of the SPT artwork.
This is the trailer where users will begin their training sessions.
At the beginning of each training session users will open their locker and put on their PPE. If they don't put on all their PPE, SAM will give them a talking to.
Here are some of the cranes the users will be working with: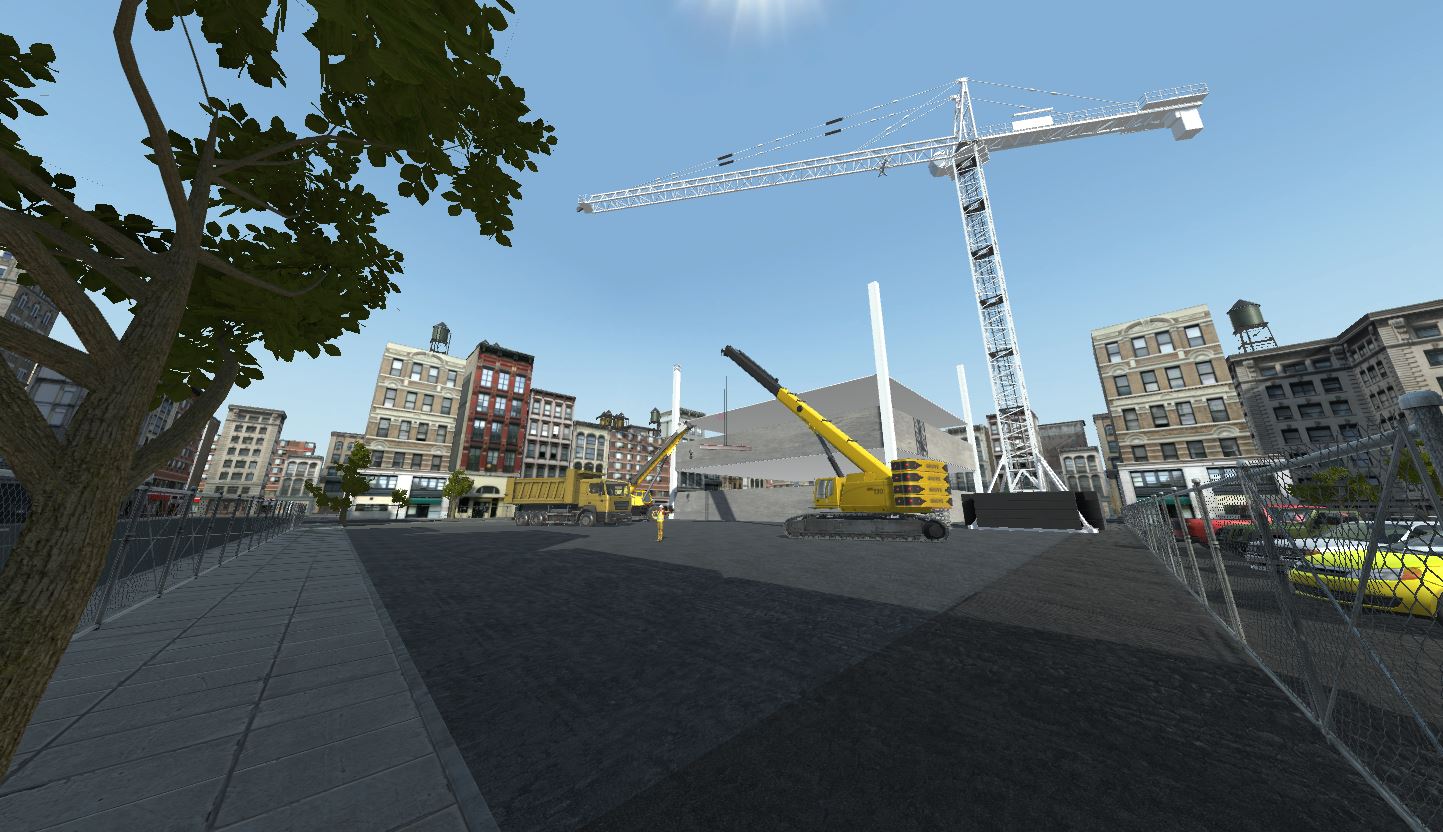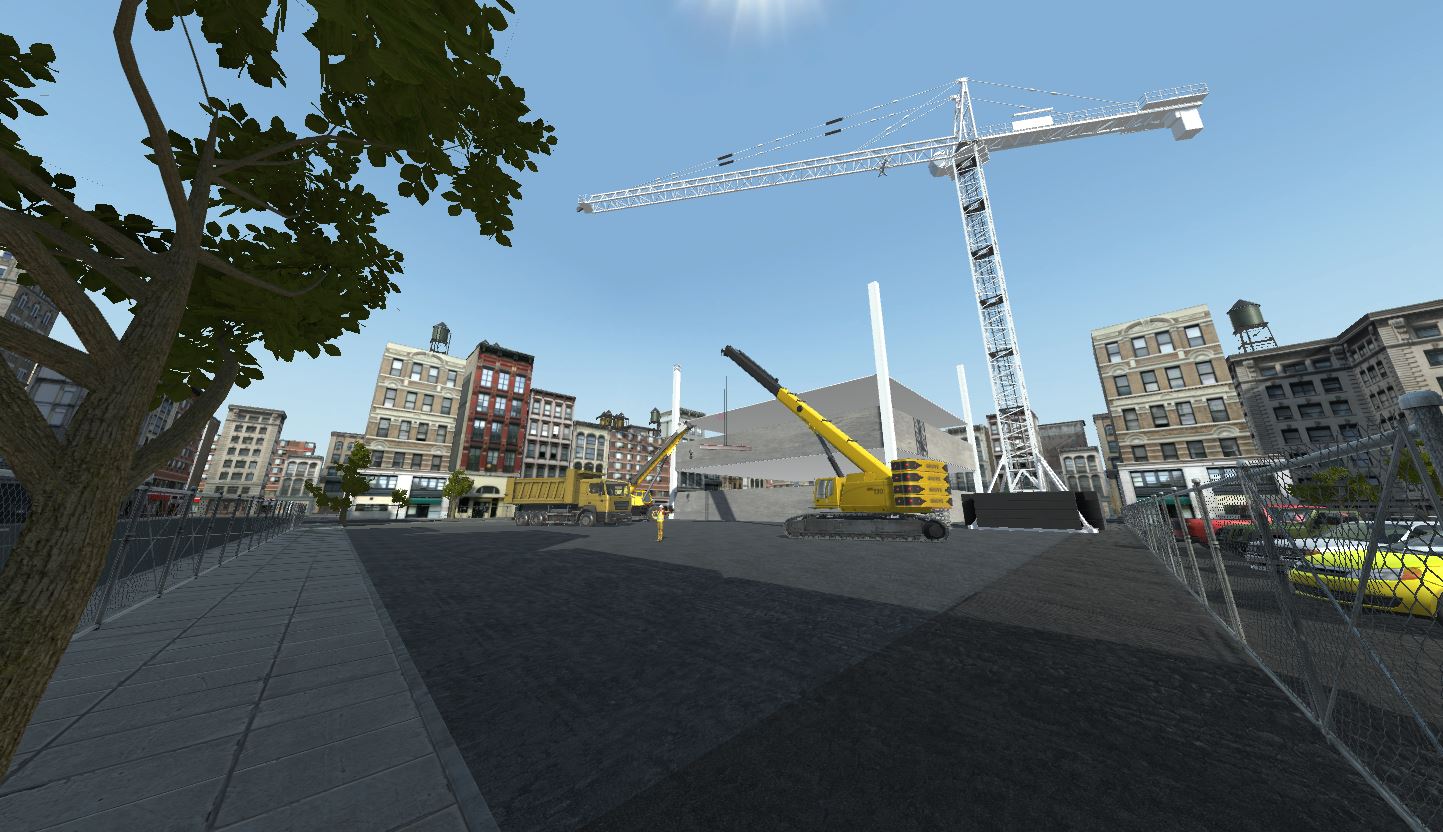 MindForge Platform
Both CLS and SPT will be delivered via the MindForge platform - which is also under construction here at MindForge. We plan to deliver a prototype by end of the year.
The prototype will include the following functionality:
Profile system that will allow workers and companies to fill out and manage their profiles.
Content library that will allow users to download and play the SPT prototype.
API that allows the SPT training application to deliver user progress updates to the platform.
In the new year, we will begin user testing of the prototype.
The MindForge platform will have the capability to deliver three types of content:
Custom training applications or videos that companies would like to distribute to their workforce
MindForge applications such as CLS or Signal Person Training VR
Third party training applications
We will seek out best in class construction training to add to the MindForge platform.
Purdue University
Pepper Construction connected us with Purdue University to discuss opportunities to collaborate. Purdue's Envision Lab and Construction Safety department received an OSHA grant to build a VR training simulator focused on working at heights. Bill, Shahin and Stokes visited Purdue had a great discussion with Dave Murphy and Mike Alder, from Pepper Construction; George Takahashi, Tech Lead of the Envision Lab; and James Jenkins, a professor at the School of Construction Management. We discovered several ways we can potentially work together and will continue to explore these opportunities.
MindForge Team:
The team expanded since the last update. Currently on staff at MindForge are:
Michael Caito-Khurshid – Business Analyst
Jack Urban – Senior Engineer / Dev Ops (Platform)
Harald Sorenson – Front End Developer (Platform)
Shawn Nicholson – Senior Software Engineer (Training Products)
Connor Fahy – Software Engineer (Training Products)
Tyler Wallace – Software Engineer (Training Products)
Matt Muzzy – 3D Modeler
Jeremiah Garay – 3D Animator
Dusty Jenkins – Content Writer
Hilary Dover – Office Manager
Shahin Aftabizadeh – Division Lead, Head of Ops
Stokes McIntyre – Division Director
We have one additional hire to make – a Game Designer - before we are fully staffed. This staff will take us through 2018 as we build out the MindForge Products.
For those that sent us sample project plans. Thank you! We are using those project plans to break down and understand specific tasks on construction projects. And, thank you all for your continued support. If you have any questions or comments please feel free to reach out.
All the Best,
The MindForge Team